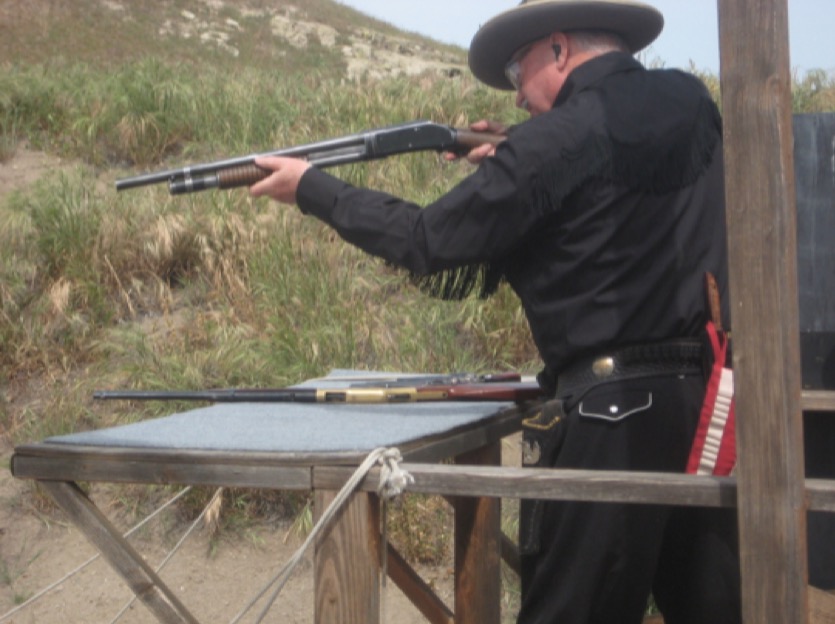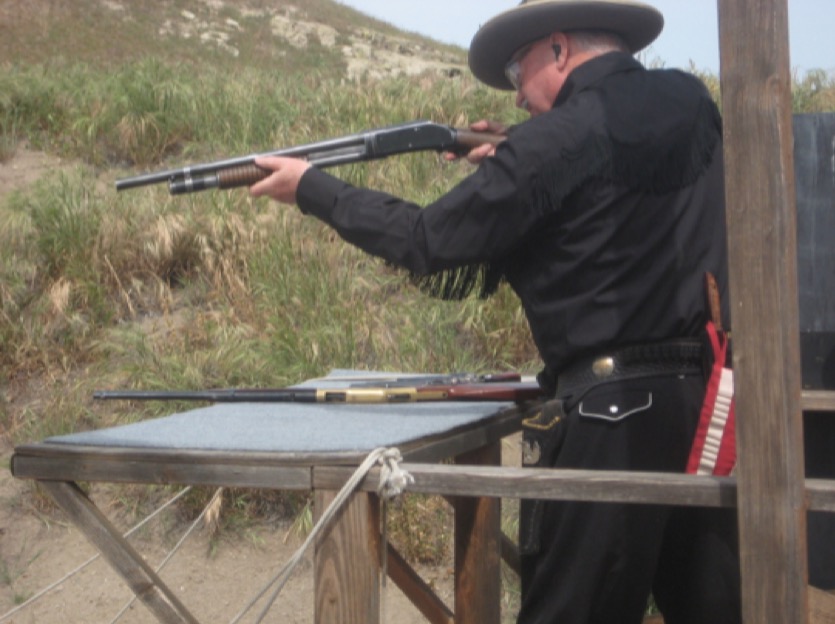 March2022 clean shooters Sun
MarchSat2022 Clean shooters
PanhandleRed scramblingBreakfast
SamMontegoSunshineFordyce
5 Dogs Creek Cowboy Action Shooters Monthly Matches are the 1st Sunday of the month, and also the Saturday of the same weekend usually starting at 9 am in winter or 8:30 am (summer). But check the current newsletter to be sure!
WINTER HOURS: Registration office opens at 8:00 am. Please register no later than 8:45 am
Mandatory shooter's meeting at 9 am.
Match begins immediately following the shooter's meeting.
SUMMER HOURS: Registration office opens at 7:30 am. Please register no later than 8:15 am
Mandatory shooter's meeting at 8:30 am.
Match begins immediately following the shooter's meeting.
Each day is a separate match. Sometimes there is a work party on Saturday of the week before. We use SASS rules. We usually shoot 5 or 6 stages per day, with an average of 24 shots per; so bring at least 60 rounds for your single action revolvers, 60 rounds for your lever action rifle, and 30-50 shells for your shotgun. Per Day. More is better. Don't forget your ear plugs & protective glasses. Protective glasses are required. (Sunglasses ok). Daily match fees are $20 and members get a $5 discount to $15. Due to insurance requirements, NRA membership is required for all 5 Dogs Creek members. (NRA discount coupon link in footer below).
We don't break for lunch, so bring a meal or a snack & eat when you're hungry. We usually eat lunch at the center tables & read the scores after the match. You're going to want to bring water or gatorade or something to drink too. You should probably bring a lunch or snack just so you don't go hungry. Free camping on the nights before our regular monthly matches. Sometimes we like to have a potluck dinner or movie night outdoors. :-) We do like to have a good time, so be prepared to be friendly!
If you are new or even sort of new to Cowboy Action shooting, we encourage you to come out and watch a Saturday match, and talk to our "Sheriff" so he can walk you through the safety check. Then you can shoot the Sunday match with us if you are ready. Even if you are an experienced shooter you will likely pick up some good tips. We try to make this worthwhile time for you, and we are really big on safety. We have a great safety record. We want you to come back!
Please Click here If you are a New Cowboy Action Shooter
Please Click Here If you are an Experienced Shooter, but new to 5 Dogs Creek
The 5 Dogs Creek Cowboy Action Shooters meet at:

(This is NOT our mailing address, see the membership page or current newsletter for mailing address)
5 Dogs Creek Shootin' Range
20238 Woody Road
Bakersfield, CA 93308
---
How to contact the range management: (not our club, but the range itself):
Range Headquarters Phone: (661) 399-7296
Range HQ FAX: (661) 399-8183
The range is closed Tues, Wed & Thursday, so don't expect the phone to be answered those days.
The range is open from Sunup to Sundown the other days. More info at the range website.
www.5dogsrange.com
If you have a question about our Cowboy Action Shooting Club you can
Email Club Info 
and check the
newsletters
for info. 5 Dogs Creek
encourages you to join SASS
, and encourages you to support your rights by joining your choice of
the NRA
and/or a freedom-oriented political organization of your choice.
Five Dogs Range has a lot to offer:
Nearly 200 acres at 5 Dogs is dedicated to live fire shooting.
In addition to our Cowboy Action Shooting range (special membership required except on match days), 5 Dogs Range (not us) also offers:
Sporting Clays Trail
* 10 stations
* By appointment only- reserve with credit card
* More Sporting Clays info
High Power Rifle Range
* Benches and shades
* Target stands from 25 to 100 yards
* Steel targets and life size steel silhouettes of deer, antelope and other game animals to 550 yds
Pistol Range
* Benches and shades
* Target stands at 15, 25 and 100 yds
* Steel targets that swing or ring when hit from 15 to 150 yds
.22 Rim Fire Range
* Benches and shades
* Steel targets that swing or ring when hit from 25 to 150 yds
Shotgun Range
* Hand cocked throwers
* Clay targets available by the case or individually
Archery Range